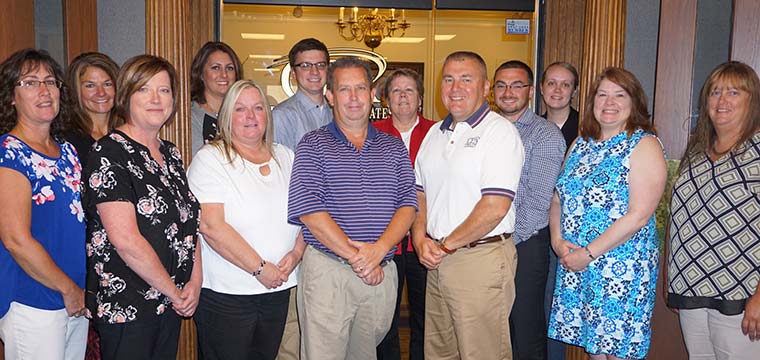 ABOUT OUR ACCOUNTING FIRM
History
Coward, Pinski & Associates, LLC was co-founded by Gregory E. Coward, CPA and John W. Pinski, Jr., CPA in the fall of 2002. Greg and John worked together at other firms in Findlay from 1992 – 2002. They shared a vision of building a new accounting firm that, with the right combination of staff members, could provide quality, timely, professional tax and accounting services.
With these principles in mind, they put together a team of highly motivated CPA's, accountants, bookkeepers, payroll specialists and administrative staff who shared the same values. High quality service warrants high quality office space, so locating their firm in the heart of downtown Findlay — at the corner of South Main and Sandusky streets — was a logical choice.
The demands of the public accounting profession in today's digital world require continued significant investments in technology. To that end, the firm invested in and continues to invest in the best hardware and software available to the profession. Investment in technology allows staff members to be efficient in the delivery of client-focused service.
Technology is worthless without properly trained staff members. The firm commits significant resources to assure that all staff members continue to improve their technical skills through training and seminars.
Since its creation, CPA has strived to provide Findlay's best client-focused tax, accounting and payroll services. Achieving this goal has led to the firm more than doubling the number of staff members over the past few years. Referrals from happy clients are the most significant factor in the growth of our company.
Meet Our Staff
Gregory E. Coward
Gregory E. Coward has been a certified public accountant since 1986. He is a 1982 graduate of Findlay High School and a 1986 graduate of Bowling Green State University with a major in accounting. Greg served in the auditing and tax departments of Ernst & Young in Cleveland, worked in the tax department at the Sherwin-Williams Company and was the partner in charge of the tax and bookkeeping departments at a local CPA firm. He also served as Chief Financial Officer of Animal Care Centers, headquartered in Findlay and was a co-founder of Moses & Coward CPA's, Inc., where he was instrumental in the firm's tremendous growth and success during his three-year tenure. Currently, Greg is managing partner of Coward, Pinski & Associates, LLC, a public accounting firm located in Findlay, Ohio. Mr. Coward is a member of the Quickbooks Professional Advisors Program. Greg is a past coach, official and board member of Findlay Amateur Hockey Association, past-chairman of the Findlay Chapter of Ducks Unlimited, current Humane Society Board member, Rotary International member and various community organizations.
John W. Pinski, Jr.
John W. Pinski, Jr. has been practicing in public accounting since 1988. He is a 1988 graduate of Miami University and is a CPA. He managed the tax and bookkeeping departments at a local CPA firm. He served as Chief Financial Officer of a local manufacturing company. Currently, John is a partner with Coward, Pinski & Associates, LLC, a public accounting firm located in Findlay, Ohio. John is involved in various civic organizations such as serving as past President of Northwest Ohio Management Accountants and past treasurer of CASA Guardian Ad Litem. John is currently the treasurer of the Hancock County Home Builders Association as well as Board member of the Black Swamp Boy Scout Council and a member of Rotary International.
Carmen J. Karhoff, CPA
Senior Accountant
1990 – The Ohio State University, BSBA
Michele L. Williams
Accountant
1999-University of Findlay, BSBA
Lisa A. Coward
Bookkeeper, Administrative Assistant
Julie A. Hoepf, CPA
Senior Accountant
1994 – University of Toledo, Masters of Taxation
1991 – Tiffin University, BSBA
For more information about our accounting services, or to receive a free estimate, please contact our accounting office at 419-425-0163 today. Our firm serves clients across Hancock County and Northwest Ohio.
Patrick G. Coward, CPA
Senior Accountant
2014 – Ohio University, BSBA
Shelley M. Burnett
Accountant
1999 – Franklin University, BSBA
Heather Loughman
2000 – Tiffin University, Bachelors of Accounting
2001 – Bowling Green State University, Masters of Taxation